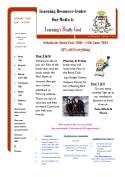 Read our latest newsletter!

Welcome to the Learning Resource Centre!
The LRC is a place where you can use the library for book loans, carry out research, buy essential stationery items, use a computer or do your homework in a quiet, peaceful environment.






The LRC has 44 computers, a printer and a large and varied collection of fiction and non fiction books. Our Librarian, Mrs Webster, is always on hand to help you with any questions you might have.
Read what some of our students have said about the Learning Resource Centre:
Year 7:
"I did homework after school before I went home"
"The LRC helps you to concentrate because it's quiet"
"I use the computers because I don't have one at home"
"I love the LRC because you can borrow books"
Year 8:Â 
"I use the LRC for all the information available in there"
"I have Mrs Webster in there for when I need help with my work"
"I use the LRC for its research facilities and it's great for homework before I leave school"
Year 9:Â 
"In the LRC it's good because you can research stuff on the computers and do homework. You can also take books and read them"
"The LRC is good for doing your homework after school"
"I love the computers because you can do your homework, you can also borrow books"
Year 10:
"It's a quiet place to study"Â 
"The LRC was very useful for my research for my textiles coursework"
"It is friendly"