Curriculum Area:  Science
KS3 Intent:
A quality science education provides the knowledge needed to make sense of the world around us. Science changes our lives and is vital to the world's future prosperity. Through science education, students add to their cultural capital by learning to recognise the power of rational explanation and develop a sense of excitement and curiosity about natural phenomena. By pupils knowing more and being able to do more, they begin to understand how science can be used to explain what is occurring, predict how things will behave, and analyse causes.
Our key Stage 3 (KS3) curriculum for science aims to ensure that all pupils:
Know more and remember more. Our scheme of work is based around three distinct disciplines: biology, chemistry and physics. The scheme of work is ambitious as it attempts to connect science as a subject to the natural world around them. We offer the chance for pupils to understand living matter and how all-living organisms interact, the particulate model to understand how particles behave, energy and the importance of using it wisely and how particles interact in advantageous and disadvantageous ways. We have structured our scheme of work so that pupils of all abilities have the chance to study key concepts at depth before moving on to more challenging content. We tactically add to existing schema by using key stage 1 & 2 language/content to assess previous knowledge on a concept, and our scheme of work is designed to link new subject content to previously taught key concepts. This allows pupils to develop their understanding of the key concepts by recalling, and adding to, their existing schema.
Understand the methodology of science: Pupils will begin to understand that nature and processes of science. We start by actively encouraging inquisitive thought and seek to engage pupils by getting them to ask scientific questions about the world around them. The scheme of work then offers the chance to learn about how we begin to answer the questions asked through observation, testing and evaluation. Pupils will develop key practical skills needed such as safety in the laboratory, microscopes, safe handling of chemicals, measurement of time, distance, speed and forces in a variety of contexts.
Be able to use science for future life: In today's modern world there are numerous articles using 'data' to back a particular agenda. This comes from multiple sources, some to be trusted and some to be questioned. Pupils will have the ability to critically evaluate evidence and have the confidence to have conviction in their understanding of the data provided. Pupils will have the ability to articulate scientific thought and the ability to solve problems through logical thought process. This will allow pupils to make informed choices throughout the rest of their lives.
Implementation: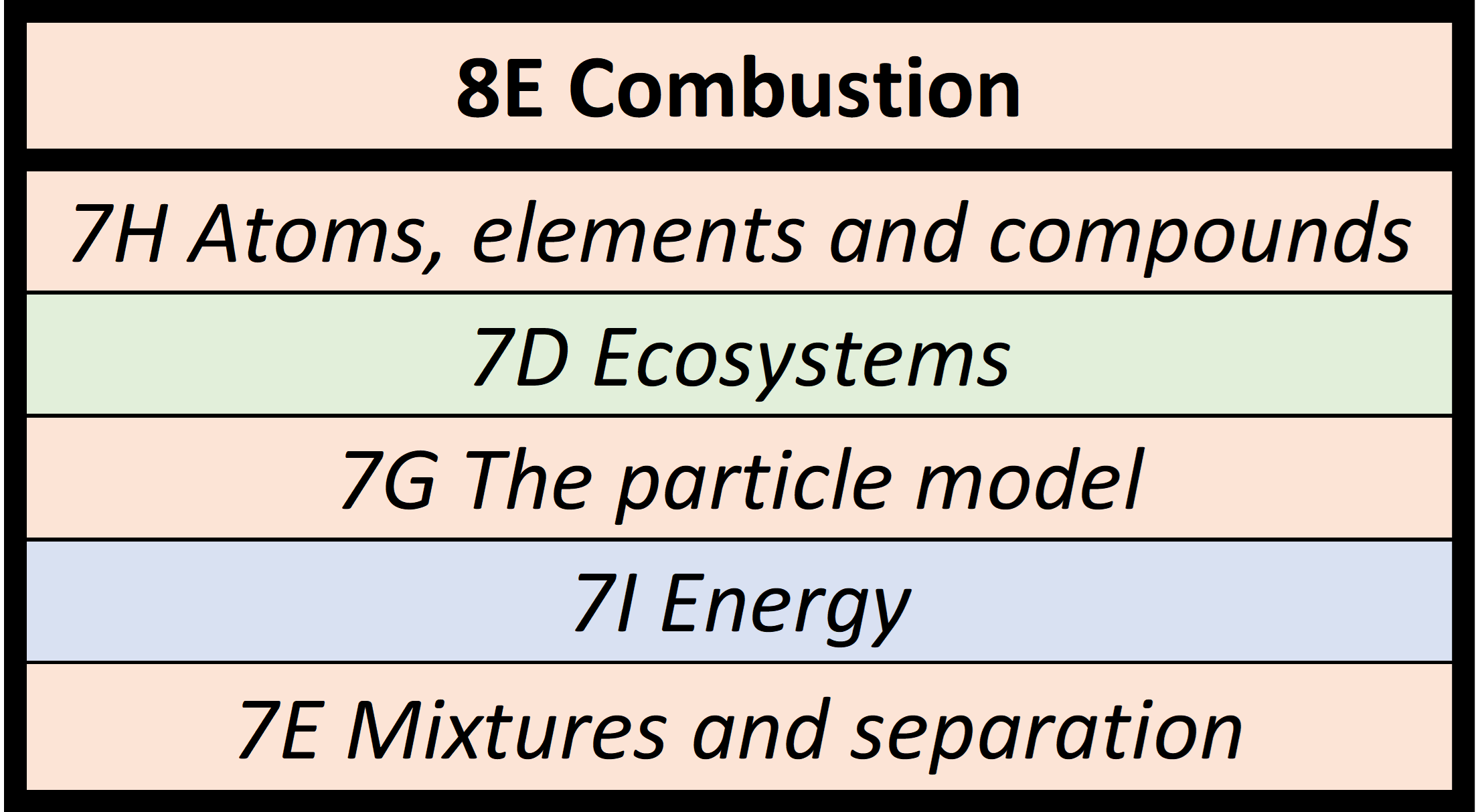 The key stage 3 curriculum has been sequenced via a meticulous analysis of prerequisite knowledge requirements and intentional schema development. Each new chapter of learning is linked to previous chapters to help pupils build their schema as they progress through the curriculum. As pupils progress through the curriculum they are presented with opportunities to display, develop, demonstrate and link their learning to new areas. An example of this schema projection is shown here for combustion, in order for pupils to explore the themes within the topic in sufficient depth they would need a detailed prerequisite knowledge of topics from all three branches of science ranging energy to ecosystems.
Throughout these analyses it was evident that certain critical topics were appearing with greater frequency across each chapter's schema. The frequency of schema presence was calculated for each new chapter of learning such that topics could be ranked based on links to new learning, the topics with the highest frequency of schema presence were designated as keystone topics. Since the keystone topics underpin greater access to, and exploration of the curriculum than other topics they have been assigned a higher priority for recall, reflection and interleaving.
Points to note:
KS3 (yr7/8) operate in two distinct streams consisting of lessons for each stream rotated through bio/chem/phys.
KS3 (yr9) operate in three distinct streams consisting biology, chemistry and physics.
Scheme of work sequencing based on prerequisite knowledge and schema development.
Recall embedded throughout based on prerequisite knowledge (schema development).
Working scientifically to be interwoven with KS3 content as recommended by KS3 National Curriculum.
Year

Term

Topic

Knowledge, skills and understanding

Links to previous content

Window for Assessment

7

HT1

Baseline KS1/2 tests

Working scientifically

7A Cells, tissues, organs and system

7E Mixtures and separation

HT1 focuses on assessing previous knowledge of all year 7 pupils.

Working scientifically is an opportunity for pupils to learn what science is and also the importance of safety in science.

We then move onto 7A where pupils learn about the building blocks of organisms of how they are structured. Mixtures and separation then explain what a mixture is and how we go about separating various mixtures.

 

Formative assessment 1 per half term

Synoptic assessment at periodic data points

7

HT2

7I Energy

7B Sexual reproduction in animals

7I Energy is an introduction into energy. It helps pupils understand what energy is and how it is transferred between stores.

7B focuses on explaining the biological mechanisms that allow animals to sexually reproduce.

 

7A

Formative assessment 1 per half term

Synoptic assessment at periodic data points

7

HT3

7F Acids and alkalis

7J Current electricity

7F is an introduction to acids and alkalis. It helps pupils identify everyday substances as acidic or alkali and also how to neutralise them.

7J is an introduction to electrical circuits and explains how electrical current behaves in circuits.

7E

 

Formative assessment 1 per half term

Synoptic assessment at periodic data points

7

HT4

7C Muscles and bones

7G The particle model

7C takes a look at how animals move using muscles and bones.

7G introduces pupils to the particle model. It informs pupils about what all matter is made from in our universe.

7A

7E

Formative assessment 1 per half term

Synoptic assessment at periodic data points

7

HT5

7K Forces

7D Ecosystems

7K helps explain what a force is and what a force can do to an object.

7D introduces ecosystems to pupils. It shows the interconnectivity of organisms and the importance of a balanced ecosystem.

 

7I,7A

Formative assessment 1 per half term

Synoptic assessment at periodic data points

7

HT6

7H Atoms, elements and

compounds

7L Sound

7H explain how matter is found in our universe. It helps pupils understand the different composition of matter and how that affects the particles properties.

7L is an introduction of sound as a transfer of energy. It explains what sound is, how it travels and how we hear sounds.

7E/7F/7G

Formative assessment 1 per half term

Synoptic assessment at periodic data points

8

HT1

Working Scientifically

8A Food and nutrition

8E Combustion

We start year 8 by revisiting the key concepts of working scientifically and reinforce the key topic of safety in the laboratory.

8A establishes the necessity of food and a balanced diet whilst exploring the consequences of not having a balanced diet.

8E helps tie theory of combustion with the consequences of burning too much and the impacts it has on the planet.

 

7D/7I/7A

 

7H/7D/7G/7I/7E

Formative assessment 1 per half term

Synoptic assessment at periodic data points

8

HT2

8I Fluids

8B Plants and Reproduction

8I develops pupils understanding on how fluids behave. We look at the properties of fluids which include lessons titled: water pressure, changes of state, and floating and sinking.

8B helps pupils understand how plants reproduce though both asexual and sexual reproduction.

 

7H/7K/7G

8E/8A/7D/7B/7A

 

Formative assessment 1 per half term

Synoptic assessment at periodic data points

8

HT3

8F The Periodic Table

8J Light

8F introduces pupils to the periodic table. It will inform pupils of how the table was put together and how we can use it to our advantage.

8J looks at what light is and the properties it displays. Lessons include: Reflection, refraction, and splitting light.

 

8E/7H/7G/7F/7E

7L/7I/7A

Formative assessment 1 per half term

Synoptic assessment at periodic data points

8

HT4

8C Breathing and respiration

8G Metals and their use

 

8C helps put the theory to an everyday occurrence…breathing. It will inform pupils of the risks of an unhealthy lifestyle and the impact it could have for your breathing system.

8G introduces metals and the different properties of different metals. We also look at the underlying structure of a metal to help understand its properties.

8A/7C/7I/7A

8F/8E/7H/7G/7F/7E

Formative assessment 1 per half term

Synoptic assessment at periodic data points

8

HT5

8K Energy transfers

8D Unicellular organisms

 

8K follows on from a previous topic. It allows pupils to develop their understanding of energy and how it is transferred from one store to another.

8D develops their understanding of cells. It introduces single celled organisms such as: fungus, bacteria and algae.

8E/7G/7I

8C/8B/8A/7D/7B/7A

Formative assessment 1 per half term

Synoptic assessment at periodic data points

8

HT6

8L Space

8H Rocks

 

8L helps pupils understand the night sky. It is designed to bring the theory to everyday occurrences such as night and day or the seasons.

8H gives pupils a better understanding of the structure of our planet, Earth.  We discuss rocks and their uses, weathering and erosion, and materials in the Earth.

8K/8J/7L/7D/7K

8G/8F/7H/7G/7K/7F/7E

 

Formative assessment 1 per half term

Synoptic assessment at periodic data points

9

HT1

9A Genetics and Evolution

9E Making materials

9I Forces and motion

 

9A is a chance for pupils to develop their understanding of genetics and evolution. This is also an ideal time to dispel common misconceptions about how humans evolved.

9E allows pupils to consolidate their previous knowledge about materials and begins to introduce materials that have more than one component.

9I uses previous knowledge to explain how forces make objects move. Looking at depth at the motion of objects allows pupils to fully understand the concept of forces.

8D/8C/8B/8A/7D/7G/7B/7A

 

8G/8F/8E/7H/7G/7E

 

8K/7K/7I

 

 

Formative assessment 1 per half term

Synoptic assessment at periodic data points

9

HT2

9B Plant growth

9F Reactivity

9J Force fields and electromagnets

 

9B looks how plants grow and how this can process can be manipulated by scientists to the advantage of mankind. We also look at the ethical issues surrounding such processes.

9F looks at the reactivity of both metals and non-metals. We look at the structure of the atom and link its structure to its reactivity.

9J expands further into the field of forces by looking at force fields and electromagnets.

9A/8C/8B/8A/7D/7A

 

9E/8G/8F/8E/7H/7G/7F/7I/7E

 

9I/8L/7K/7J

 

Formative assessment 1 per half term

Synoptic assessment at periodic data points

9

HT3

9C Biology revision and projects.

9G Chemistry revision and projects.

9K Physics revision and projects.

9C takes a deeper look at the fundamental subject content in the KS3 Biology National Curriculum. Lessons include Cells, systems and movement, Other organ Systems. Pupils will also add to their cultural capital by exploring issues such as animal smuggling and teeth.

9G revisits cornerstone content that is essential to the pupils' understanding of chemistry, with lessons including; separating substances in industry, physical and chemical reactions in everyday life, the Earth and its Atmosphere. We also introduce carbon capture as a way to develop a pupils' understanding of the issues and potential solutions to the global warming crisis.

9K links essential physics content at KS3. Lessons allow pupils to fully explore why scientists use models to explain natural phenomenon. Pupils will cover lessons such as: Models in Science, Waves and Fields, Machines. We finish by asking pupils to use what they have learned at KS3 to explain a range of phenomena from measuring speed to how our eyes and ears work.

All previous content.

Formative assessment 1 per half term

Synoptic assessment at periodic data points

9

HT4

9D Biology transition to GCSE

9H Chemistry transition to GCSE

9L Physics transition to GCSE

 

The final half term of our KS3 serves as a bridge to KS4. It is an opportunity for pupils to link their learning to some of the key concepts that will underpin their new key stage.

Subject content will still be at KS3 level, but the introduction of command words will be taught throughout. In 9B lessons will explore Diseases, Testing Medicines, and Ecology.

9H will refamiliarise pupils with fundamental concepts in chemistry, lessons include: Ions, Rates of Reaction, and Chemical Equations.

9F attempts to develop pupils' schema in physics developing pupil depth of understanding of; Fields, Cause and Effect, Links between Variables, and Models.

All previous content.

Formative assessment 1 per half term

Synoptic assessment at periodic data points
KS4 Intent: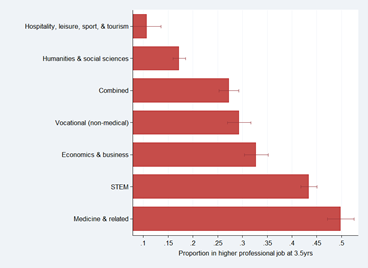 Educate a woman and you educate a family; educate a girl and you educate the future. As an all-girl school we have a moral responsibility to address gender imbalance and social disadvantages associated with science. Research provides evidence that maternal qualifications removes disadvantage from future generations and that true social mobility is led by science qualifications, which provide access to better paid, professional careers than any other subject.
The primary intent of our curriculum is to produce scientifically articulate citizens, able to discuss and apply fundamental scientific ideas in real life, ranging from being able to rewire a household plug (topic 6.2) to evaluating the scientific literature and ethics surrounding vaccinations and medical research (topic 4.3). Critically, we want all of our pupils prepared for their next stage scientific stage, be it further study, or immersion in real life.
Our key stage 4 (KS4) curriculum offering is designed to develop and deepen the concepts taught at KS3. To deepen understanding we take pupils' existing schema and introduce it to new concepts therefore developing and reinforcing key ideas through real life context. We continue to link the scientific concepts mandated to us in the National Curriculum to real life applications, but we do not hesitate to go further if it helps pupils to understand the real world. This enables pupils to investigate the world around them and provides evidence of how science underpins most of the technological advancements in the developed world. Science is moving forward at a faster pace than ever before. It is essential that pupils possess the scientific capital to understand developments and potentially contribute to new scientific endeavours. Science is a knowledge driven subject but we encourage students to grapple with difficult concepts as this develops resilience, which is a fundamental life skill. Other skills intrinsic to a good scientist include: logical thinking, methodical approach to process, critical evaluation of data, and the ability to remain curious about natural phenomena. Using skills that science teaches us, we can begin to understand how our life is driven by common ideas which include: that every effect has one or more cause, change is driven by interaction between objects or systems, and that interactions can occur over great distances and time periods.
While we do teach three different branches of science, we interleave them in such a way that key concepts are continually and sequentially built upon. All pupils, regardless of qualification will be taught each branch of science concurrently to avoid fallow periods of time which would make recall and retention more challenging. Knowing more and remembering more is our key principle, we do this by linking sciences, topics, concepts and ideas with continual guided reflection. The curriculum is designed to allow pupils equal coverage of biology, chemistry and physics. This exposes pupils to a full range of scientific knowledge to develop their observational, practical, modelling, enquiry, problem-solving skills and mathematical skills, both in the laboratory, in the field and in other environments. The three disciplines are all underpinned by the concept of working scientifically. Working scientifically will also give pupils the understanding of how ideas develop over time and how peer review is essential to the scientific process.
Implementation:
The sequencing of our curriculum has considered many factors. Key concepts that are fundamental to understanding of other topics are delivered first and are given extra time to allow exploration in unfamiliar contexts to promote mastery. Content that requires complex mathematical skill sets are delayed until they have been first explored in the maths department, we work with the maths team to teach these concepts using a common approach and language.
As with KS3 science keystone topics have been identified by frequency of appearance in learning schema and are prioritised for recall, reflection and interleaving. To support this process and allow pupils to fully explore science a scheme of supra curricular lessons have been embedded throughout the curriculum. These supra curricular lessons share the common purpose of increasing science capital and exposing the meaning and true value of science to pupils to help us meet our intent of developing scientifically literate citizens. Among the themes of supra curricular lessons are careers, preeminent scientists, inclusion, metacognition and exploration, all linked directly to current learning.
Year

Term

Topic

Knowledge, skills and understanding

Window for Assessment

9

3

Cell Biology

 

Cells are the basic unit of all forms of life. In this section we explore how structural differences between types of cells enables them to perform specific functions within the organism. These differences in cells are controlled by genes in the nucleus. For an organism to grow, cells must divide by mitosis producing two new identical cells. If cells are isolated at an early stage of growth before they have become too specialised, they can retain their ability to grow into a range of different types of cells. This phenomenon has led to the development of stem cell technology. This is a new branch of medicine that allows doctors to repair damaged organs by growing new tissue from stem cells.

Content Key

Formative assessment in lessons.

 

HW Quizzes.

 

Summative Assessments (1 per half term).

 

Synoptic assessment at periodic points in-line with whole school data points.

Atomic Structure & The Periodic Table

 

The periodic table provides chemists with a structured organisation of the known chemical elements from which they can make sense of their physical and chemical properties. The historical

development of the periodic table and models of atomic structure provide good examples of how scientific ideas and explanations develop over time as new evidence emerges. The arrangement of

elements in the modern periodic table can be explained in terms of atomic structure which provides evidence for the model of a nuclear atom with electrons in energy levels. In this unit, pupils learn about the structure of the atom, the development of periodic table, and the trends and properties of individual groups of elements.

Energy

 

 

 

 

The concept of energy emerged in the 19th century. The idea was used to explain the work output of steam engines and then generalised to understand other heat engines. It also became a key tool for understanding chemical reactions and biological systems.

Limits to the use of fossil fuels and global warming are critical problems for this century. Physicists and engineers are working hard to identify ways to reduce our energy usage. Pupils will explore the concept of energy transfer, conservation of energy, and energy changes throughout this section of the course.

10

1

Organisation

In this section we will learn about the human digestive system which provides the body with nutrients and the respiratory system that provides it with oxygen and removes carbon dioxide. In

each case they provide dissolved materials that need to be moved quickly around the body in the blood by the circulatory system. Damage to any of these systems can be debilitating if not fatal.

Although there has been huge progress in surgical techniques, especially with regard to coronary heart disease, many interventions would not be necessary if individuals reduced their risks through improved diet and lifestyle. We will also learn how the plant's transport system is dependent on environmental conditions to ensure that leaf cells are provided with the water and carbon dioxide that they need for photosynthesis.

Formative assessment in lessons.

 

HW Quizzes.

 

Summative Assessments (1 per half term).

 

Synoptic assessment at periodic points in-line with whole school data points

Bonding, structure and the properties of matter

 

 

 

 

 

 

 

 

 

Quantitative chemistry

Chemists use theories of structure and bonding to explain the physical and chemical properties of materials. Analysis of structures shows that atoms can be arranged in a variety of ways, some of which are molecular while others are giant structures. Theories of bonding explain how atoms are held together in these structures. Scientists use this knowledge of structure and bonding to engineer new materials with desirable properties. The properties of these materials may offer new applications in a range of different technologies. In this section, pupils will learn about different types of chemical bonds, and how they affect the properties of substances.

 

 

Chemists use quantitative analysis to determine the formulae of compounds and the equations for reactions. Given this information, analysts can then use quantitative methods to determine the purity of chemical samples and to monitor the yield from chemical reactions. Chemical reactions can be classified in various ways. Identifying different types of chemical

reaction allows chemists to make sense of how different chemicals react together, to establish patterns and to make predictions about the behaviour of other chemicals. Chemical equations

provide a means of representing chemical reactions and are a key way for chemists to communicate chemical ideas. Pupils will learn how to calculate relative formula mass, and use equations to calculate moles and concentration of solutions in this section.

 

Electricity

Electric charge is a fundamental property of matter everywhere. Understanding the difference in the microstructure of conductors, semiconductors and insulators makes it possible to design

components and build electric circuits. Many circuits are powered with mains electricity, but portable electrical devices must use batteries of some kind. Electrical power fills the modern world with artificial light and sound, information and entertainment,

remote sensing and control. The fundamentals of electromagnetism were worked out by scientists

of the 19th century. In this unit we will cover the features of different circuits, the relationship between voltage, current and resistance, and explore how energy is produced and transferred to our homes. We will also discuss the need for sustainable energy sources.

10

2

Infection and response

Pathogens are microorganisms such as viruses and bacteria that cause infectious diseases in animals and plants. They depend on their host to provide the conditions and nutrients that they

need to grow and reproduce. They frequently produce toxins that damage tissues and make us feel ill. This section will explore how we can avoid diseases by reducing contact with them, as well

as how the body uses barriers against pathogens. Once inside the body our immune system is triggered which is usually strong enough to destroy the pathogen and prevent disease. When at

risk from unusual or dangerous diseases our body's natural system can be enhanced by the use of vaccination. Since the 1940s a range of antibiotics have been developed which have proved successful against a number of lethal diseases caused by bacteria. Unfortunately, many groups of bacteria have now become resistant to these antibiotics. The race is now on to develop a new set

of antibiotics.

 

Formative assessment in lessons.

 

HW Quizzes.

 

Summative Assessments (1 per half term).

 

Synoptic assessment at periodic points in-line with whole school data points

Chemical changes

Understanding of chemical changes began when people began experimenting with chemical reactions in a systematic way and organizing their results logically. This section explores the reactivity of and extraction of metals from ores, and the production of salts during chemical reactions. Knowing about these different chemical changes meant that scientists could begin to predict exactly what new substances would be formed and use this knowledge to develop a wide range of different materials and processes. It also helped biochemists to understand the complex reactions that take place in living organisms.

The extraction of important resources from the earth makes use of the way that some elements and compounds react with each other and how easily they can be 'pulled apart'.

Particle model of matter

 

 

 

 

 

 

 

Atomic structure

The particle model is widely used to predict the behaviour of solids, liquids and gases and this has many applications in everyday life. It helps us to explain a wide range of observations and

engineers use these principles when designing vessels to withstand high pressures and temperatures, such as submarines and spacecraft. It also explains why it is difficult to make a good cup of tea high up a mountain! This section explores how particles behave during changes of state, internal energy, specific latent heat, and how different factors affect gas pressure.

 

Ionising radiation is hazardous but can be very useful. Although radioactivity was discovered over a century ago, it took many nuclear physicists several decades to understand the structure of

atoms, nuclear forces and stability. Early researchers suffered from their exposure to ionising radiation. Rules for radiological protection were first introduced in the 1930s and subsequently

improved. Today radioactive materials are widely used in medicine, industry, agriculture and electrical power generation. This section of the course explores the random decay of radioisotopes, the properties of different types of ionising radiation, and half-life.

 

10

3

Bioenergetics

 

 

 

 

 

 

 

 

 

 

 

 

Homeostasis and response

In this section we will explore how plants harness the Sun's energy in photosynthesis in order to make food. This process liberates oxygen which has built up over millions of years in the Earth's

atmosphere. Both animals and plants use this oxygen to oxidise food in a process called aerobic respiration which transfers the energy that the organism needs to perform its functions.

Conversely, anaerobic respiration does not require oxygen to transfer energy. During vigorous exercise the human body is unable to supply the cells with sufficient oxygen and it switches to

anaerobic respiration. This process will supply energy but also causes the build-up of lactic acid in muscles which causes fatigue.

 

 

Cells in the body can only survive within narrow physical and chemical limits. They require a constant temperature and pH as well as a constant supply of dissolved food and water. In order to

do this the body requires control systems that constantly monitor and adjust the composition of the blood and tissues. These control systems include receptors which sense changes and effectors

that bring about changes. In this section we will explore the structure and function of the nervous system and how it can bring about fast responses. We will also explore the hormonal system which usually brings about much slower changes. Hormonal coordination is particularly important in reproduction since it controls the menstrual cycle. An understanding of the role of hormones in reproduction has allowed scientists to develop not only contraceptive drugs but also drugs which

can increase fertility.

 

Formative assessment in lessons.

 

HW Quizzes.

 

Summative Assessments (1 per half term).

 

Synoptic assessment at periodic points in-line with whole school data points

Energy changes

 

 

 

 

 

 

 

 

 

 

 

 

 

The rate and extent of chemical change

 

 

 

 

 

 

In this section, pupils learn that energy changes are an important part of chemical reactions. They learn that the interaction of particles often involves transfers of energy due to the breaking and formation of bonds. Reactions in which energy

is released to the surroundings are exothermic reactions, while those that take in thermal energy are endothermic. These interactions between particles can produce heating or cooling effects that are used in a range of everyday applications. Some interactions between ions in an electrolyte result in the production of electricity. Cells and batteries use these chemical reactions to provide electricity. Electricity can also be used to decompose ionic substances and is a useful means of producing elements that are too expensive to extract any other way.

 

 

Chemical reactions can occur at vastly different rates. Whilst the reactivity of chemicals is a significant factor in how fast chemical reactions proceed, there are many variables that can be

manipulated in order to speed them up or slow them down. Chemical reactions may also be reversible and therefore the effect of different variables needs to be established in order to identify

how to maximise the yield of desired product. Understanding energy changes that accompany chemical reactions is important for this process. In industry, chemists and chemical engineers

determine the effect of different variables on reaction rate and yield of product. Whilst there may be compromises to be made, they carry out optimisation processes to ensure that enough product is produced within a sufficient time, and in an energy-efficient way. This section of the course explores the different factors that affect the rate of a chemical reaction, reversible reactions, and equilibrium.

Forces

Engineers analyse forces when designing a great variety of machines and instruments, from road bridges and fairground rides to atomic force microscopes. Anything mechanical can be analysed in this way. Recent developments in artificial limbs use the analysis of forces to make movement possible. This unit includes gravity, the distance- time relationship, acceleration and application of Newton's laws of motion when explaining the effects of forces on objects.

11

1

Inheritance, variation and evolution

In this section we will discover how the number of chromosomes are halved during meiosis and then combined with new genes from the sexual partner to produce unique offspring. Gene

mutations occur continuously and on rare occasions can affect the functioning of the animal or plant. These mutations may be damaging and lead to a number of genetic disorders or death. Very

rarely a new mutation can be beneficial and consequently, lead to increased fitness in the individual. Variation generated by mutations and sexual reproduction is the basis for natural

selection; this is how species evolve. An understanding of these processes has allowed scientists to intervene through selective breeding to produce livestock with favoured characteristics. Once

new varieties of plants or animals have been produced it is possible to clone individuals to produce larger numbers of identical individuals all carrying the favourable characteristic. Scientists have now discovered how to take genes from one species and introduce them into the genome of another by a process called genetic engineering. In spite of the huge potential benefits that this technology can offer, genetic modification still remains highly controversial. Pupils learn about the variation, the process of genetic inheritance, and evolution via natural selection in this section.

Formative assessment in lessons.

 

HW Quizzes.

 

Summative Assessments (1 per half term).

 

Synoptic assessment at periodic points in-line with whole school data points

Organic chemistry

 

 

 

 

 

 

 

 

 

 

 

 

 

Chemical analysis

The chemistry of carbon compounds is so important that it forms a separate branch of chemistry. A great variety of carbon compounds is possible because carbon atoms can form chains and rings

linked by C-C bonds. This branch of chemistry gets its name from the fact that the main sources of organic compounds are living, or once-living materials from plants and animals. These sources

include fossil fuels which are a major source of feedstock for the petrochemical industry. Chemists are able to take organic molecules and modify them in many ways to make new and useful

materials such as polymers, pharmaceuticals, perfumes and flavourings, dyes and detergents. Pupils learn about different hydrocarbons, the products of fractional distillation, and polymerisation in this section.

 

 

Analysts have developed a range of qualitative tests to detect specific chemicals. The tests are based on reactions that produce a gas with distinctive properties, or a colour change or an

insoluble solid that appears as a precipitate.

Instrumental methods provide fast, sensitive and accurate means of analysing chemicals, and are particularly useful when the amount of chemical being analysed is small. Forensic scientists and

drug control scientists rely on such instrumental methods in their work.

Waves

 

 

 

 

Wave behaviour is common in both natural and man-made systems. Waves carry energy from one place to another and can also carry information. Designing comfortable and safe structures such

as bridges, houses and music performance halls requires an understanding of mechanical waves. Modern technologies such as imaging and communication systems show how we can make the

most of electromagnetic waves.

11

2

Ecology

The Sun is a source of energy that passes through ecosystems. Materials including carbon and water are continually recycled by the living world, being released through respiration of animals,

plants and decomposing microorganisms and taken up by plants in photosynthesis. All species live in ecosystems composed of complex communities of animals and plants dependent on each other and that are adapted to particular conditions, both abiotic and biotic. These ecosystems provide essential services that support human life and continued development. In order to continue to benefit from these services humans need to engage with the environment in a sustainable way. In this section we will explore how humans are threatening biodiversity as well as the natural systems that support it. We will also consider some actions we need to take to ensure our future health, prosperity and well-being.

Formative assessment in lessons.

 

HW Quizzes.

 

Summative Assessments (1 per half term).

 

Synoptic assessment at periodic points in-line with whole school data points

Chemistry of the atmosphere

 

 

 

 

 

 

 

 

Using resources

The Earth's atmosphere is dynamic and forever changing. The causes of these changes are sometimes man-made and sometimes part of many natural cycles. Scientists use very complex

software to predict weather and climate change as there are many variables that can influence this. The problems caused by increased levels of air pollutants require scientists and engineers to develop solutions that help to reduce the impact of human activity. In this section, pupils will explore the evolution of the Earth's atmosphere, and the impact of human activity on the planet.

 

Industries use the Earth's natural resources to manufacture useful products. In order to operate sustainably, chemists seek to minimise the use of limited resources, use of energy, waste and

environmental impact in the manufacture of these products. Chemists also aim to develop ways of disposing of products at the end of their useful life in ways that ensure that materials and stored energy are utilised. Pollution, disposal of waste products and changing land use has a significant effect on the environment, and environmental chemists study how human activity has affected the Earth's natural cycles, and how damaging effects can be minimised. In this unit, students will learn about natural and manmade resources, the environmental impact of manufacturing products, and recycling.

 

Magnetism and electromagnetism

 

 

 

 

 

 

Electromagnetic effects are used in a wide variety of devices. Engineers make use of the fact that a magnet moving in a coil can produce electric current and also that when current flows around a magnet it can produce movement. It means that systems that involve control or communications can take full advantage of this. In this section, students will learn about magnetic fields around current carrying wires, electromagnets, and the motor effect.

11

 

3

 

Curriculum Summary

Final opportunity for pupils to display their learning and demonstrates their progress through the curriculum before external examinations commence.

External Examinations
KS5 Intent:
Our key stage 5 (KS5) curriculum is designed to develop and enhance subject specific knowledge within the fields of natural, chemical and physical sciences. The KS5 offering has a focus on deepening the appreciation, and knowledge of each science. Mathematics is intrinsic to developing an understanding of the concepts and ideas involved and so we have structured our curriculum to develop competence and confidence in mathematical processes to aid understanding of theory, particularly in the physical sciences.
As with KS3/KS4 we teach pupils to relate classroom-based lessons to the physical world around them. Teaching with context allows pupils to develop the ability to take scientific theory and apply it to their own daily lives. Having this within a pupils' skillset is essential as a scientist. Not only does this skill help recall and reinforce past schema but it also allows pupils to fully understand and appreciate the scientific advances that are rapidly and continually developing all around us. A range of additional methods are used to encourage recall and retention of knowledge, including the application of multiple platforms. Pupils are regularly challenged to explain prior learning and make links to new learning.
A current theme that is woven through all key stages is developing a scientists' ability to ask questions and remain curious about natural phenomena. We continue this theme at KS5 by expecting pupils to complete practical investigations independently. Laboratories are stocked with glassware and equipment that pupils are guided toward selecting and using independently. This allows pupils to fully appreciate the importance of the scientific method and offers pupils a chance to evaluate, not the data obtained through experiment, but also how they conducted the investigation.
The curriculum also offers pupils a chance to contribute to industry through a work-based placement. Here, pupils will have the chance to develop their understanding of industry and begin to appreciate the myriad of careers available through the application and pursuit of scientific knowledge. This is augmented by a keen staff body possessing a range of real-world scientific careers prior to teaching.
Implementation (Natural Sciences):
Year

Term

Topic

Knowledge, skills and understanding

Window for Assessment

12

1

Biological Molecules

All life on Earth shares a common chemistry. This provides indirect evidence for evolution.

 

Despite their great variety, the cells of all living organisms contain only a few groups of carbon based compounds that interact in similar ways.

 

Carbohydrates are commonly used by cells as respiratory substrates. They also form structural components in plasma membranes and cell walls.

 

Lipids have many uses, including the bilayer of plasma membranes, certain hormones and as respiratory substrates.

 

Proteins form many cell structures. They are also important as enzymes, chemical messengers and components of the blood.

Formative assessment in lessons

 

HW Quizzes

 

Summative Assessments (1 per half term)

 

Synoptic assessment at periodic points in-line with whole school data points

Cells

All life on Earth exists as cells. These have basic features in common. Differences between cells are due to the addition of extra features. This provides indirect evidence for evolution.

 

All cells arise from other cells, by binary fission in prokaryotic cells and by mitosis and meiosis in eukaryotic cells.

12

2

Biological Molecules (Cont.)

Nucleic acids carry the coded genetic information for the production of proteins. The genetic code is common to viruses and to all living organisms, providing evidence for evolution.

 

The most common component of cells is water; hence our search for life elsewhere in the universe involves a search for liquid water.

Formative assessment in lessons

 

HW Quizzes

 

Summative Assessments (1 per half term)

 

Synoptic assessment at periodic points in-line with whole school data points

Cells (Cont.)

All cells have a cell-surface membrane and, in addition, eukaryotic cells have internal membranes. The basic structure of these plasma membranes is the same and enables control of the passage of substances across exchange surfaces by passive or active transport.

 

Cell-surface membranes contain embedded proteins. Some of these are involved in cell signalling – communication between cells. Others act as antigens, allowing recognition of 'self' and 'foreign' cells by the immune system. Interactions between different types of cell are involved in disease, recovery from disease and prevention of symptoms occurring at a later date if exposed to the same antigen, or antigen-bearing pathogen.

12

3

Genetic Information, Variation & Relationships

Biological diversity – biodiversity - is reflected in the vast number of species of organisms, in the variation of individual characteristics within a single species and in the variation of cell types within a single multicellular organism.

 

Differences between species reflect genetic differences. Differences between individuals within a species could be the result of genetic factors, of environmental factors, or a combination of both.

 

A gene is a section of DNA located at a particular site on a DNA molecule, called its locus. The base sequence of each gene carries the coded genetic information that determines the sequence of amino acids during protein synthesis. The genetic code used is the same in all organisms, providing indirect evidence for evolution.

 

Genetic diversity within a species can be caused by gene mutation, chromosome mutation or random factors associated with meiosis and fertilisation. This genetic diversity is acted upon by natural selection, resulting in species becoming better adapted to their environment.

 

Variation within a species can be measured using differences in the base sequence of DNA or in the amino acid sequence of proteins.

 

Biodiversity within a community can be measured using species richness and an index of diversity.

Formative assessment in lessons

 

HW Quizzes

 

Summative Assessments (1 per half term)

 

Synoptic assessment at periodic points in-line with whole school data points

Organisms Exchange Substances with their Environment

The internal environment of a cell or organism is different from its external environment. The exchange of substances between the internal and external environments takes place at exchange surfaces. To truly enter or leave an organism, most substances must cross cell plasma membranes.

 

In large multicellular organisms, the immediate environment of cells is some form of tissue fluid. Most cells are too far away from exchange surfaces and from each other, for simple diffusion alone to maintain the composition of tissue fluid within a suitable metabolic range. In large organisms, exchange surfaces are associated with mass transport systems that carry substances between the exchange surfaces and the rest of the body and between parts of the body. Mass transport maintains the final diffusion gradients that bring substances to and from the cell membranes of individual cells. It also helps to maintain the relatively stable environment that is tissue fluid.

13

1

Energy Transfer in and Between Organisms

Life depends on continuous transfers of energy.

In photosynthesis, light is absorbed by chlorophyll and this is linked to the production of ATP.

In respiration, various substances are used as respiratory substrates. The hydrolysis of these respiratory substrates is linked to the production of ATP.

In both respiration and photosynthesis, ATP production occurs when protons diffuse down an electrochemical gradient through molecules of the enzyme ATP synthase, embedded in the membranes of cellular organelles.

The process of photosynthesis is common in all photoautotrophic organisms and the process of respiration is common in all organisms, providing indirect evidence for evolution.

Formative assessment in lessons

 

HW Quizzes

 

Summative Assessments (1 per half term)

 

Synoptic assessment at periodic points in-line with whole school data points

Genetics, Populations, Evolution & Ecosystems

The theory of evolution underpins modern Biology. All new species arise from an existing species. This results in different species sharing a common ancestry, as represented in phylogenetic classification. Common ancestry can explain the similarities between all living organisms, such as common chemistry (eg all proteins made from the same 20 or so amino acids), physiological pathways (eg anaerobic respiration), cell structure, DNA as the genetic material and a 'universal' genetic code.

The individuals of a species share the same genes but (usually) different combinations of alleles of these genes. An individual inherits alleles from their parent or parents.

 

A species exists as one or more populations. There is variation in the phenotypes of organisms in a population, due to genetic and environmental factors. Two forces affect genetic variation in populations: genetic drift and natural selection. Genetic drift can cause changes in allele frequency in small populations. Natural selection occurs when alleles that enhance the fitness of the individuals that carry them rise in frequency. A change in the allele frequency of a population is evolution.

 

If a population becomes isolated from other populations of the same species, there will be no gene flow between the isolated population and the others. This may lead to the accumulation of genetic differences in the isolated population, compared with the other populations. These differences may ultimately lead to organisms in the isolated population becoming unable to breed and produce fertile offspring with organisms from the other populations. This reproductive isolation means that a new species has evolved.

 

Populations of different species live in communities. Competition occurs within and between these populations for the means of survival. Within a single community, one population is affected by other populations, the biotic factors, in its environment. Populations within communities are also affected by, and in turn affect, the abiotic (physicochemical) factors in an ecosystem.

13

2

Organisms Respond to Changes in their Internal and External Environments

All organisms must respond to change to survive. The complex mechanisms underlying the myriad of responses of life on earth are investigated academically and practically.

 

A stimulus is a change in the internal or external environment. A receptor detects a stimulus. A coordinator formulates a suitable response to a stimulus. An effector produces a response.

 

Receptors are specific to one type of stimulus.

Nerve cells pass electrical impulses along their length. A nerve impulse is specific to a target cell only because it releases a chemical messenger directly onto it, producing a response that is usually rapid, short-lived and localised.

 

In contrast, mammalian hormones stimulate their target cells via the blood system. They are specific to the tertiary structure of receptors on their target cells and produce responses that are usually slow, long-lasting and widespread.

 

Plants control their response using hormone-like growth substances.

Formative assessment in lessons

 

HW Quizzes

 

Summative Assessments (1 per half term)

 

Synoptic assessment at periodic points in-line with whole school data points

The Control of Gene Expression

Cells are able to control their metabolic activities by regulating the transcription and translation of their genome. Although the cells within an organism carry the same code genetic information, they translate only part of it. In multicellular organisms, this control of translation enables cells to have specialised functions, forming tissues and organs.

 

There are many factors that control the expression of genes and, thus, the phenotype of organisms. Some are external, environmental factors, others are internal factors. The expression of genes is not as simple as once thought, with epigenetic regulation of transcription being increasingly recognised as important.

 

Humans are learning how to control the expression of genes by altering the epigenome, and how to alter genomes and proteomes of organisms. This has many medical and technological applications.

 

Consideration of cellular control mechanisms underpins the content of this section. Students who have studied it should develop an understanding of the ways in which organisms and cells control their activities. This should lead to an appreciation of common ailments resulting from a breakdown of these control mechanisms and the use of DNA technology in the diagnosis and treatment of human diseases.

13

3

Summary

All topics are summarised to allow pupils time to interconnect the entire course.

 
Implementation (Chemical Sciences):
Key: P = Physical Chemistry, O = Organic Chemistry, I = Inorganic Chemistry
Year

Term

Topic

Knowledge, skills and understanding

Window for Assessment

12

1

Atomic Structure, Amount of Substance

P The nuances of atomic structure deemed too complicated for study at GCSE are introduced. Pupils investigate how the arrangement of electrons in orbitals is linked to the way in which elements are organised in the Periodic Table.

Pupils explore the methods by which chemists can measure mass of atoms and molecules to a high degree of accuracy in a mass spectrometer is covered. The principles of operation of a modern mass spectrometer are studied. The mole, and its value as a unit of amount of measure are detailed.

Formative assessment in lessons

 

HW Quizzes

 

Summative Assessments (1 per half term)

 

Synoptic assessment at periodic points in-line with whole school data points

Bonding, Kinetics

P The physical and chemical properties of compounds depend on the ways in which the compounds are held together by chemical bonds and by intermolecular forces. Theories of bonding explain how atoms or ions are held together in these structures. Materials scientists use knowledge of structure and bonding to engineer new materials with desirable properties. These new materials may offer new applications in a range of different modern technologies.

The study of kinetics enables chemists to determine how a change in conditions affects the speed of a chemical reaction. Whilst the reactivity of chemicals is a significant factor in how fast chemical reactions proceed, there are variables that can be manipulated in order to speed them up or slow them down.

12

2

Energetics, Chemical Equilibria, Oxidation & Reduction

P The enthalpy change in a chemical reaction can be measured accurately. It is important to know this value for chemical reactions that are used as a source of heat energy in applications such as domestic boilers and internal combustion engines.

In contrast with kinetics, which is a study of how quickly reactions occur, a study of equilibria indicates how far reactions will go. Le Chatelier's principle can be used to predict the effects of changes in temperature, pressure and concentration on the yield of a reversible reaction. This has important consequences for many industrial processes. The further study of the equilibrium constant, Kc, considers how the mathematical expression for the equilibrium constant enables us to calculate how an equilibrium yield will be influenced by the concentration of reactants and products.

Redox reactions involve a transfer of electrons from the reducing agent to the oxidising agent. The change in the oxidation state of an element in a compound or ion is used to identify the element that has been oxidised or reduced in a given reaction. Separate half-equations are written for the oxidation or reduction processes. These half-equations can then be combined to give an overall equation for any redox reaction.

Formative assessment in lessons

 

HW Quizzes

 

Summative Assessments (1 per half term)

 

Synoptic assessment at periodic points in-line with whole school data points

Introduction to Organic Chemistry, Alkanes, Halogenoalkanes

O Organic chemistry is the study of the millions of covalent compounds of the element carbon. These structurally diverse compounds vary from naturally occurring petroleum fuels to DNA and the molecules in living systems. Organic compounds also demonstrate human ingenuity in the vast range of synthetic materials created by chemists. Many of these compounds are used as drugs, medicines and plastics.

Organic compounds are named using the International Union of Pure and Applied Chemistry (IUPAC) system and the structure or formula of molecules can be represented in various different ways. Organic mechanisms are studied, which enable reactions to be explained.

In the search for sustainable chemistry, safer agrochemicals and for new materials to match the desire for new technology, chemistry plays a vital role.

12

3

Group 2 – Alkaline Earth Metals, Group 7 – Halogens, Periodicity

I The elements in Group 2 are called the alkaline earth metals. The trends in the solubilities of the hydroxides and the sulfates of these elements are linked to their use. Barium sulfate, magnesium hydroxide and magnesium sulfate have applications in medicines whilst calcium hydroxide is used in agriculture to change soil pH, which is essential for good crop production and maintaining the food supply.

The halogens in Group 7 are very reactive non-metals. Trends in their physical properties are examined and explained. Fluorine is too dangerous to be used in a school laboratory but the reactions of chlorine are studied. Challenges in studying the properties of elements in this group include explaining the trends in ability of the halogens to behave as oxidising agents and the halide ions to behave as reducing agents.

Formative assessment in lessons

 

HW Quizzes

 

Summative Assessments (1 per half term)

 

Synoptic assessment at periodic points in-line with whole school data points

Alkenes, Alcohols, Organic Analysis

O In alkenes, the high-electron density of the carbon–carbon double bond leads to attack on these molecules by electrophiles.  This section also n alkenes, the high electron density of the carbon–carbon double bond leads to attack on these molecules by electrophiles.  This section also covers the mechanism of addition to the double bond and introduces addition polymers, which are commercially important and have many uses in modern society.

Alcohols have many scientific, medicinal and industrial uses. Ethanol is one such alcohol and it is produced using different methods, which are considered in this section. Ethanol can be used as a biofuel.

Our understanding of organic molecules, their structure and the way they react, has been enhanced by organic analysis. This section considers some of the analytical techniques used by chemists, including test-tube reactions and spectroscopic techniques.

13

1

Thermodynamics, Acids & Bases, Electrode potential & electrochemical cells

P The further study of thermodynamics builds on the Energetics section and is important in understanding the stability of compounds and why chemical reactions occur. Enthalpy change is linked with entropy change enabling the free-energy change to be calculated.

Acids and bases are important in domestic, environmental and industrial contexts. Acidity in aqueous solutions is caused by hydrogen ions and a logarithmic scale, pH, has been devised to measure acidity. Buffer solutions, which can be made from partially neutralised weak acids, resist changes in pH and find many important industrial and biological applications.

Redox reactions take place in electrochemical cells where electrons are transferred from the reducing agent to the oxidising agent indirectly via an external circuit. A potential difference is created that can drive an electric current to do work. Electrochemical cells have very important commercial applications as a portable supply of electricity to power electronic devices such as mobile phones, tablets and laptops. On a larger scale, they can provide energy to power a vehicle.

Formative assessment in lessons

 

HW Quizzes

 

Summative Assessments (1 per half term)

 

Synoptic assessment at periodic points in-line with whole school data points

Optical Isomerism, Aldehydes and Ketones, Carboxylic Acids, Rate Equations (P)

O Compounds that contain an asymmetric carbon atom form stereoisomers that differ in their effect on plane polarised light. This type of isomerism is called optical isomerism.

Carboxylic acids are weak acids but strong enough to liberate carbon dioxide from carbonates. Esters occur naturally in vegetable oils and animal fats. Important products obtained from esters include biodiesel, soap and glycerol.

13

2

Transition Metals, Reactions of Ions is aq. Solution, Properties of Period 3 Elements and their Oxides

I Unlike the metals in Groups 1 and 2, the transition metals Ti to Cu form coloured compounds and compounds where the transition metal exists in different oxidation states. Some of these metals are familiar as catalysts. The properties of these elements are studied in this section with opportunities for a wide range of practical investigations.

The reactions of the Period 3 elements with oxygen are considered. The pH of the solutions formed when the oxides react with water illustrates further trends in properties across this period. Explanations of these reactions offer opportunities to develop an in-depth understanding of how and why these reactions occur.

Formative assessment in lessons

 

HW Quizzes

 

Summative Assessments (1 per half term)

 

Synoptic assessment at periodic points in-line with whole school data points

Aromatic Chemistry, Amines, Polymers, Amino Acids, Proteins, DNA, Equilibrium Constant (P), NMR Spectroscopy, Chromatography, Organic Synthesis

O Amino acids, proteins and DNA are the molecules of life. In this section, the structure and bonding in these molecules and the way they interact is studied. Drug action is also considered.

Chemists use a variety of techniques to deduce the structure of compounds. In this section, nuclear magnetic resonance spectroscopy is added to mass spectrometry and infrared spectroscopy as an analytical technique. The emphasis is on the use of analytical data to solve problems rather than on spectroscopic theory.

13

3

Course Summary

All topics are summarised to allow pupils time to interconnect the entire course.

External Examinations
Implementation (Physical Sciences):
Year

Term

Topic

Knowledge, skills and understanding

Window for Assessment

12

1

Measurements and their errors

Content in this section is focussed on working scientifically and all the skills associated with that topic. Content involves SI units, conversation of units, standard form, and errors and their causes.

 

Formative assessment in lessons

 

HW Quizzes

 

Summative Assessments (1 per half term)

 

Synoptic assessment at periodic points in-line with whole school data points

Particles and radiation

This section introduces students both to the fundamental properties of matter, and to electromagnetic radiation and quantum phenomena.

Topics include constituent parts of the atom, stable and unstable nuclei, photoelectric effect, and particle interactions.

12

2

Waves

GCSE studies of wave phenomena are extended through a development of knowledge of the characteristics, properties, and applications of travelling waves and stationary waves. Topics treated include refraction, diffraction, superposition and interference

 

Formative assessment in lessons

 

HW Quizzes

 

Summative Assessments (1 per half term)

 

Synoptic assessment at periodic points in-line with whole school data points

12

3

Mechanics and materials

Vectors and their treatment are introduced followed by development of the student's knowledge and understanding of forces, energy and momentum. The section continues with a study of materials considered in terms of their bulk properties and tensile strength.

 

Formative assessment in lessons

 

HW Quizzes

 

Summative Assessments (1 per half term)

 

Synoptic assessment at periodic points in-line with whole school data points

Electricity

This section builds on and develops earlier study of these phenomena from GCSE. It provides opportunities for the development of practical skills at an early stage in the course and lays the groundwork for later study of the many electrical applications that are important to society.

 

13

1

Further mechanics and thermal physics

The earlier study of mechanics is further advanced through a consideration of circular motion and simple harmonic motion (the harmonic oscillator). A further section allows the thermal properties of materials, the properties and nature of ideal gases, and the molecular kinetic theory to be studied in depth.

 

Formative assessment in lessons

 

HW Quizzes

 

Summative Assessments (1 per half term)

 

Synoptic assessment at periodic points in-line with whole school data points

Fields and their consequences

The concept of field is one of the great unifying ideas in physics. The ideas of gravitation, electrostatics

and magnetic field theory are developed within the topic to emphasise this unification. Many ideas from

mechanics and electricity from earlier in the course support this and are further developed.

13

2

Nuclear physics

This section builds on the work of Particles and radiation to link the properties of the nucleus to the production of nuclear power through the characteristics of the nucleus, the properties of unstable nuclei, and the link between energy and mass.

 

Formative assessment in lessons

 

HW Quizzes

 

Summative Assessments (1 per half term)

 

Synoptic assessment at periodic points in-line with whole school data points

13

2

Astrophysics (Optional)

Fundamental physical principles are applied to the study and interpretation of the Universe. Students gain deeper insight into the behaviour of objects at great distances from Earth and discover the ways in which information from these objects can be gathered.

NB – Only one option block is selected, which optional topic is selected is dependent on each individual cohort proclivity and strengths.

 

Formative assessment in lessons

 

HW Quizzes

 

Summative Assessments (1 per half term)

 

Synoptic assessment at periodic points in-line with whole school data points

Engineering physics (Optional)

This option offers opportunities for students to reinforce and extend the work of core units by considering applications in areas of engineering and technology. It extends the student's understanding in areas of rotational dynamics and thermodynamics

 

Turning points in physics (Optional)

This option is intended to enable key concepts and developments in physics to be studied in greater depth than in the core content. Students will be able to appreciate, from historical and conceptual viewpoints, the significance of major paradigm shifts for the subject in the perspectives of experimentation and understanding.

 

13

3

Course Summary

All topics are summarised to allow pupils time to interconnect the entire course.

External Examinations