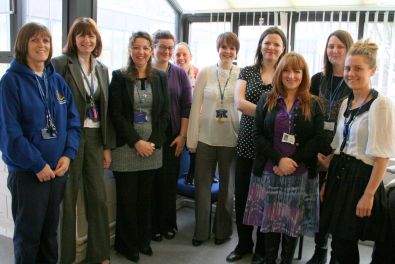 What do the staff in the photo above have in common?
They are all past pupils of St. Julie's. Yes, that's right, they too were St. Julie's girls!
We have many past pupils working here on our teaching and support staff and, as you can see from the photo, they're all still smiling so St. Julie's must have got something right!
As we are currently celebrating 160 years of Notre Dame education in Liverpool, we thought it would be interesting to hear about their memories of St. Julie's and Notre Dame Woolton, as it used to be known. 7P1 were tasked with coming up with a suitably revealing questionnaire!
It is clear that St. Julie's and the Notre Dame spirit mean a lot to the staff who were here as pupils. Yes, uniforms may have changed and facilities updated, but the values and traditions of a Notre Dame school are as evident today as they were in the past.
We hope you enjoy reading the memories of our many "Old Girls"
What is your happiest memory of St. Julie's?
"My happiest memories were winning the form cup, our trips to Colomendy and all my time in the Sixth Form."
"Meeting my two best friends, Anne and Joanne."
"Going to London with my drama group to see a production of Romeo and Juliet at the Aldwych Theatre and spending time sightseeing. I hadn't been to London before and we had a brilliant time."
"Winning the yr7 form prize at Easter for the best painted boiled egg and going to Colomendy in yr 10 and having midnight feast in the dorms."
"Making lots of valuable friends."
"When we went to the Mediterranean with the school with Mrs Hardiman - funniest holiday ever!"
"When we all used to hang out in the music rooms. It was great to be part of a small community within the big school community."
"There are so many to choose from, my last day in Year 11, history lessons with an unsuspecting student teacher, finding out my niece was born during an English lesson, but my favourite memory has to be when I won a Science competition in Year 10.
It was a national competition about the history of genetics and Miss Pearson had managed to get us all passionate about it. I remember walking along the second floor corridor on the way to science and Miss Pearson appeared from nowhere with a huge grin on her face. Apparently, I'd won the competition. Everyone seemed to realise what she was saying before me and there was a buzz in the corridor as my friends and Miss Pearson look set to burst with excitement. It was great, everyone was so happy and it was a nice way to be rewarded for hard work."
What was the uniform like and did you like wearing it?
"The uniform when I came here was grey and like most grey things it meant one thing to me, boredom. Like most school girls I wanted to figure out who I was and be different to everyone else, but the grey made us all look like one big gloomy army. I think the worst part of the uniform were the extra heavy, thick wool-blend blazers that smelt like wet dog every time it rained. Today's uniform is so much better than when I was here - not that the girls will believe me!"
"Grey skirt, light blue shirt, grey jumper or cardigan and grey woollen blazer. The blazer was horrible as it smelt like wet dog if you got caught in the rain!
We had to wear socks as well as we were not allowed tights until year 10. By year 8 we could wear grey woolly tights if it was really cold."
"The uniform was an A-line turquoise skirt, made of a curtain like material, that had to be past your knees with a pink and white checked shirt and a turquoise jumper. There were beige socks and to top it off a turquoise mac! We looked lovely!"
"We had a grey uniform with blue shirts and a grey blazer but when it rained our blazers used to smell of wet dogs."
"The uniform was grey and yellow - not very attractive! The only reason I like a uniform is because you do not have to think about what to wear of a morning."
"It was petrol blue skirt and tunic made of Bri-nylon that sparks of static electricity would fly off, with a pink and white check blouse, a petrol blue cardigan and a mac which we called a 'Columbo' after a detective off the TV (ask your Nan who he was). The mac was bought that long that I still had it in 6th form. A flat cap made of the same nylon material based on one worn by Donny Osmond (who was a major heart throb: think Justin Bieber x10) which gave you 'hat hair'. There were brown socks and shoes. Summer uniform was a blue or pink check or paisley dress that in yr 9/10, girls were supposed to attempt to make for ourselves in needlework. Mine did not see the light of day as it was so awful."
"The uniform was awful. A pink and white blouse, petrol blue jumper, petrol blue striped skirt made out of the most disgusting material you used to catch your nails on it, petrol blue mac that was so shapeless it fitted you from year 7 to year 11 and a Donny Osmond beret that was made out of the same material as the skirt and you only wore for about the first week in year 7 and beige socks. In the summer you wore a summer dress in either blue check or blue paisley and sandals and in PE we had leotards!"
"The uniform consisted of; a grey skirt, blue blouse, grey cardigan, grey coat and hat with brown shoes. We had to have two pairs of shoes; one for indoor wear and one for outdoor wear. In summer we wore blue and white striped dresses with a grey blazer and straw boater. During my first two years, we watched our 'new school' being built."
"The more daring and fashionable girls would not wear the school coats but had to get past a rather fierce teacher each night. No problem. Their non school coats were passed out through windows and school coats that had gone out being worn by pupils came back in through the windows to be used again so everyone was seen to leave in a school coat!"
"In my day the uniform consisted of a grey skirt and jumper, and blue blouse. It was very different to the petrol blue uniform of the school when it was Notre Dame. Grey seemed characterless and dull to me - give me bright colours any time."
Which was your favourite subject and why?
"English of course! I can still remember many of the books I read at St Julie's with great affection."
"English as I had 2 teachers who made it really interesting and Drama as I loved all the theatre trips."
"Music and English because I loved to sing and enjoyed writing stories."
"My favourite subject was obviously Dance with Mrs Wolstenholme but I also loved RE with Mrs Mannings and Mrs Brady!"
"I always liked History and Dance but hated Geography and Gym though I liked netball and tennis."
"Graphics with Mr Radburn because he was sound as a pound and I got my only A* for my clock I made which is still going strong on my Nan's wall! And of course making gargoyles in Mr Harvey's class."
"Favourite subject has got to be Home Economics as I loved Miss Palmer who taught it and obviously liked cooking and Classical Civilisation with Miss Lambert (now Mrs McCann). She was fab!"
"French - the only subject where talking in lessons was positively encouraged. I also loved maths, R.E. and Latin!"
"I loved a few of my subjects, mostly because of my teachers. Lower down the school, History was the best subject because Mrs Bennion was such a character who, once we'd got through Year 7, had real fun with our class. In Year 10 and 11, I fell in love with English and Biology because I had amazing teachers who loved their subjects and who made it interesting. The teacher can make a massive difference to the subject."
Did you ever get into trouble, and if so, what for?
"I used to get in trouble for being far too relaxed about things; I remember one frustrated teacher told my parents that if I was anymore laid back I'd be horizontal. Other than that, I'd get the odd warning for talking too much, but who doesn't?"
"Regularly for not doing homework - I won't say who for!"
"I was in trouble in a History lesson once for chewing gum. I was told to put it on my nose and I refused so was sent out."
"Naughty pupils had to stand along a corridor. I was only put there once for eating my lunch outside and not in the canteen - very unladylike."
"Yes in drama with Mrs Doherty when me and my friends were throwing the little millions sweets at everyone from the top row, and when me and my friend set the tea towel on fire in cookery by mistake because we weren't paying attention."
"I went on a science trip once and my friend threw me in the river. Mrs Julian just laughed and said we would have deal with being wet all day. We were freezing!"
"My chatterbox ways got me into trouble a few times..."
How has St. Julie's changed?
"There are boys in Sixth Form now, for a start. And the Headteacher is now male - the Headteacher when I was a girl was a nun called Sister Kevin. But the biggest change has to be that every pupil in the 1980s had a perm - the curlier your hair was, the better."
"It seemed a lot more religious when I came. There seemed to be whole school masses a lot and quite a few members of staff were nuns."
"Today the St Julie's school building is similar to what it used to be. Rooms have been changed around and walls moved. Instead of language labs we have computer suites. The Our Lady's Building is now part of the school. The field no longer belongs to the school and most of it is fenced off. None of my teachers are here now. There are no sisters of Notre Dame here either. There were always some when I was a school, including one who used to fall asleep while teaching us English! Assemblies are still held in the Drama Hall and big school events including exams in the Sports Hall."
"We had quite a few teachers who were nuns and very strict. Most of the teachers wore the long black gowns like the ones in Harry Potter's school and they were permanently covered in white chalk dust. One nun who taught French would launch the board duster at you if you got a question wrong so you had to learn to duck."
"The facilities are much better. There are lots of new staff and a new Headteacher."
"There are a lot more events like for Red Nose Day where the teachers and pupils are able to dress up. The new LRC facility available for students as we didn't have this when I was here. "
"There have been lots of changes to locations of subjects, and the dining rooms. The Drama Hall didn't have chairs, and PE didn't have a classroom or gym."
"The actual building is very different. What was the Head's office is now the old LRC, and the 6th form common room was the staff room. The DT building is new and the Edward Henessy block has been extended."
"Obviously, the layout and some of the staff have changed, but overall the friendly atmosphere and the faith that the teachers have in the girls is still the same. I remember coming for my job interview and waiting nervously in the reception to be called up, everyone who walked past said hello or gave a smile. It was instantly welcoming and I knew the school was still as great as it was the day I left it."
Are any of your teachers still here?
"Yes! I was suprised by how many were still here, but I think if I named them they'd be after me!"
"Lots - I'm not that old! It was very strange getting used to being allowed in the staffroom when I first joined St. Julie's as a teacher and even more difficult was getting used to calling my old teachers by their first names. I never really managed that with Mr. Rimmer!"
"Miss Boyle, Mrs Crowe, Mrs Mangan, Mrs Mannings, and Mrs McCann were all here when I was."
"Yes, quite a few. Mrs Doherty, Mrs McDonald, Mrs Nicholson, Mrs Hardiman, Mrs Preston, Mr Radburn and Mr Harvey who is still balancing the stool on his chin."
"Miss Gilgannon was my form tutor in year 7 (Sorry to make you feel old!)...she was hilarious! Mrs Mannings/Mrs Brady were my RE teachers...I was definitely their favourite! Mrs Locke was my science teacher."
"Mrs Doherty the Head of Drama is still here, as is Mrs McCann in English, but they were just young whipper snappers when I was a girl!"
Were you involved in any extra curricular activities here?
"I was briefly a terrible 'goal keep' on the school netball team."
"Guides in year 7 and a few drama productions (I was a little dancing wood fairy in A Midsummer Night's Dream!)"
"Choir, Netball and Cross Country Running."
"There were far fewer trips as travel abroad was so expensive. I think the furthest I got was Colomendy. We didn't stay after school except in 6th form when we just stayed to talk. Apart from PE and Dance, I don't remember many after-school activities. There must have been a debating group though as I remember one friend hiding under a table while the poor teacher looked for her and we pleaded ignorance of her whereabouts. We did do charity work though."
"I was a member of every team...I was and still am very competitive. I played hockey and netball. I was in gymnastic club and dance club. Embarrassing to say...I was in the golf club!"
"I was in the netball team which I used to love, and in dance shows with Miss Foster."
"I was really into music so I was in the choir and the orchestra. I also played Mrs. Beaver in The Lion , The Witch and the Wardrobe! I was also part of the liturgy group with Sr. Louise and would help and play in the music group at 8.30 mass on Fridays."
"Yes, I tried to be involved in as much as possible when I was here. I joined a few of the sports clubs (although I wasn't very good), went to Art club, Graphics Club and did an extra GCSE after school with one of the younger teachers. The extra curricular clubs were a great way to talk to people I didn't see often and to see what other things I could try my hand at."
Are you still in touch with any of your school friends from St. Julie's?
"Thanks to modern technology, I'm still in touch with quite a few of them which is great. It's nice to still be in touch with people who share the same memories and occasionally we still share a giggle over certain teachers who kept us entertained."
"I am. I see a few regularly and facebook makes that much easier now. One of my best friends from St Julie's was my bridesmaid last summer."
"I'm still in touch with about 5 friends from school who I see on a regular basis."
"Yes quite a lot of them, this is where I met my best friends."
"Yeah lots of them!"
"Yes, I still see two of my best friends from here."
"Yes, I see one friend, Ann, a couple of times a year."
"I remember lots of friends. I still keep in touch with some of them now even though they do not live in Liverpool any more."
"Yes, I still see my two best friends over 20 years later."
Sum up your time as a pupil here in five words:
"Big hair like Brian May."
"Scary (Year 7), fun, Respectful, challenging, structured."
"Fun, hard work, good education and values that set me up for life."
"Fun, Friendly, Eventful"
"Eventful, enjoyable, funny, friendship and memories."
"Custard Doughnuts! (This is because on a Friday in 6th form we would go to Sainsburys for our lunch and the highlight for us all would be a custard doughnut as they were gorgeous!)"
"Different, challenging, funny, life-changing, unique"
"The reason I'm a teacher."
What's the best thing about working here now?
"The people - Both the girls and staff make this school a fabulous place to work."
"The community spirit and seeing the progression of families who come back. I was in the same year as the mum of one of our year 8s and it is unbelievable how many past pupils come back to work here!"
"It has reminded me of all the good things we did when we were pupils."
"I get to see the school in a different point of view in what I did than when I was a student here, as I thought that when I left here I did not think I would ever be working here, but its brought back all the memories I had here and fun times and now I am able to help the students with any support they need."
"The best thing about teaching here is the people I work with, adults and pupils. Sometimes they can drive you mad, (yes - even the teachers), but working with them is fantastic. Life is never boring as every day is different. It is a great privilege to work with young people and watch them grow into young adults and hopefully to play some small part in this."
"I can give dance opportunities to others."
"It makes you feel young as you relive old memories every day walking down corridors or get a whiff of a familiar food smell from the canteen. Being able to give a little bit back to our students as a way of saying thanks for what a Notre Dame education gave me."
"I know my way around! It brings back lots of memories, good and bad, and makes you understand how each year in school can be so different depending on teachers, friendship groups and growing up."
"Getting to share my love of books with children for a living."