Updates Throughout The Day
We'll be working hard throughout Red Nose Day to keep you up to speed with our fun activities. Keep checking back often!
18/3/11: 15:20 And here we are at the end of the day already! Cash is still being collected and counted, so I don't have that figure for you yet, but on behalf of the entire school I do need to say a massive thank you and well done to everybody who embraced the charitable spirit of St. Julie's and contributed to such a fun day today. Extra special thanks go to our Year 13 Council and our Year 10 cake bakers for their huge amount of hard work in preparation.
If you've been following us today then thanks a lot for your interest, and now spare a thought for all the people who have to walk home or get on the bus dressed like this...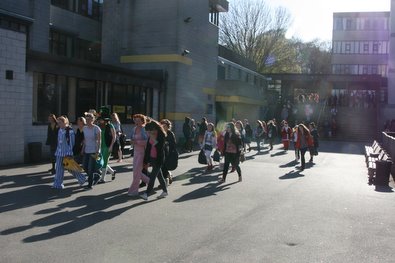 18/3/11: 13:50 Well, we were promised it, and we got it! The staff tug of war is sure to see a few sore backs tomorrow! Under the careful scrutiny of Mr Davenport, who seems to have rustled up the world's longest, most colourful, rope we got see some serious heaving going on...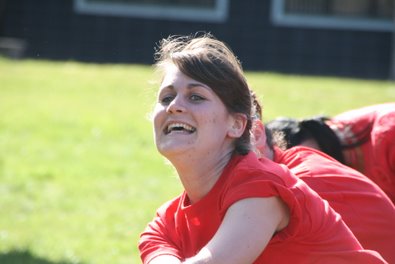 ...but once again it was those canny science folk who used their special mixure of brains and brawn to see off the opposition. I think there must be something in the water over in the science department! Hats off to our determined winners: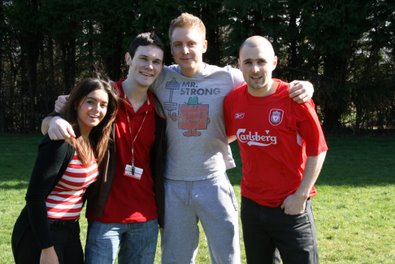 ...and of course commiserations to our interpid runners up: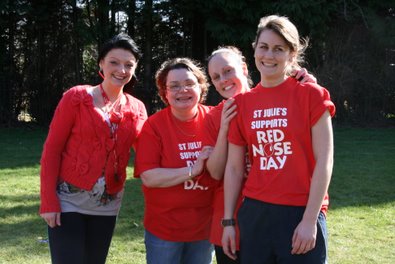 In a great sportsmanlike gesture, both teams exchanged hand shakes after the battle, despite savage rumours that one player was pulling faces at the opposition! There's nothing in that rumour, I'm sure.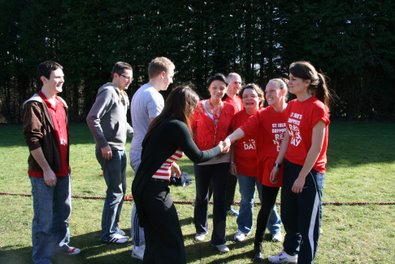 18/3/11: 13:10 Phew! Things have calmed down a little bit after that hectic breaktime and lots of people are in lessons - this is still a normal teaching day remember! But as we're in middle lunch break it's time to show you that our hard working kitchen staff aren't afraid to join the party either!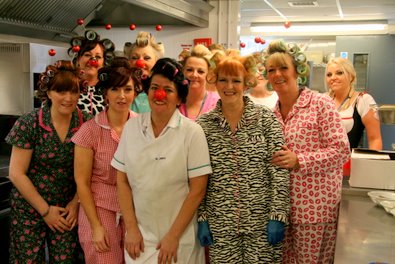 18/3/11: 12:04 I was a bit worried when I heard that Mr Alderman was getting filled in on the floor of the courtyard, but it's yet another fundraiser! We've drawn round his outline on the floor and we're working on filling the gaps with coins. We'll keep you posted with how that one goes!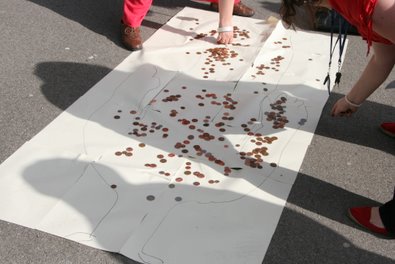 18/3/11: 11:57 We're still working on uniform rules, but Mr Alderman seems happy enough to pose with all of these strange new students.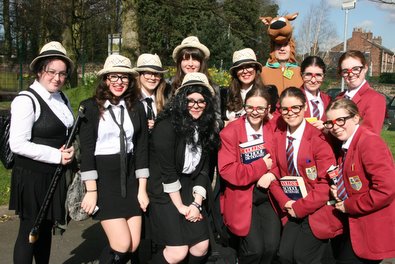 18/3/11: 11:53 We had a little time after the staff race and so some of our students had a go!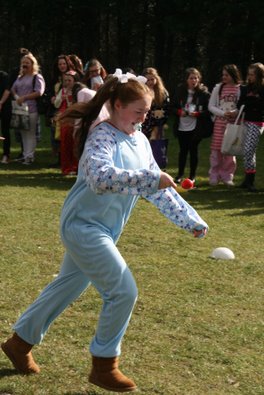 The crowd were on tenterhooks to see who would turn out to be the top banana!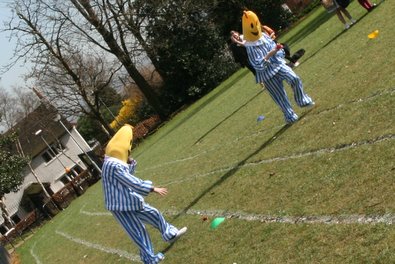 18/3/11: 11:49 Mr Alderman made his appearance at the race to show some dogged support! I didn't get any of those Scooby Snax though...still, the day is young.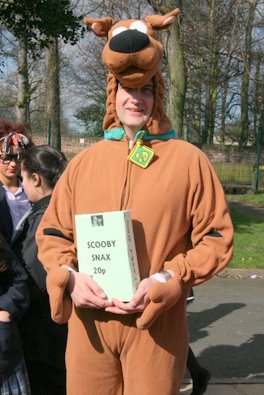 18/3/11: 11:46 The staff nose and spoon race was a fierce event! Some of our contestants listened well to the instructions and showed a beautiful technique...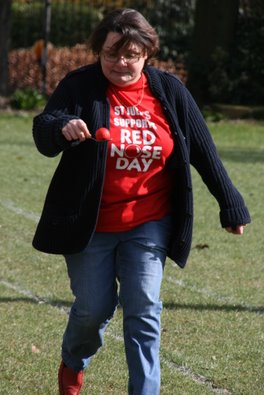 ...whilst others showed the kind of unsportsmanlike conduct that almost forced a stewards' enquiry!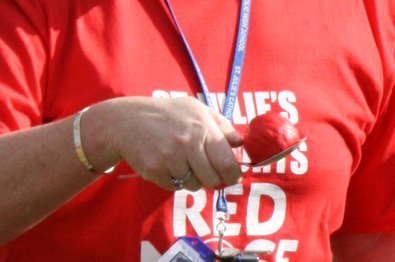 Fortunately no foul play was invoked by our worthy winners! Congratulations!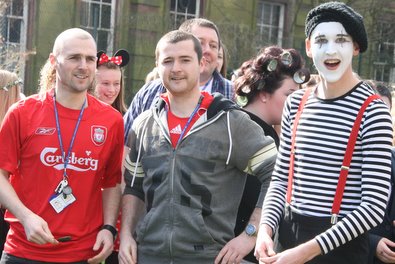 18/3/11: 11:22 Oh my! we've got more celebs for our nose and spoon race than the Monte Carlo Grand Prix! Take That seem to have dropped in to follow the race.
18/3/11: 11:16 During break the fundraising cash was coming in thick and fast as Sixth Form were going through the goodies quickly...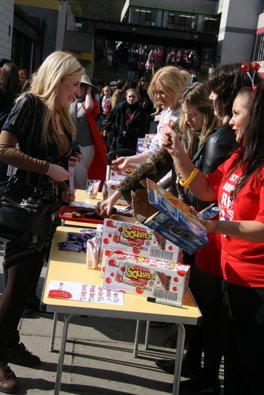 ...whilst Batgirl was helping the Year 10 students with their cake sale.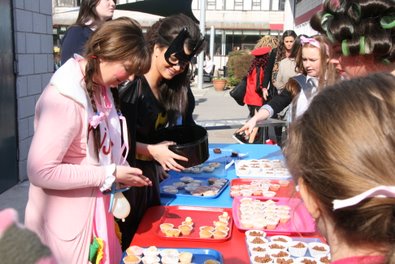 18/3/11: 11:04 Wow - that was a busy break time - the next raft of updates are coming, including the closely fought nose and spoon race!
18/3/11: 09:53 No, I wasn't going mad earlier. Santa has joined us for a quick Spring Break!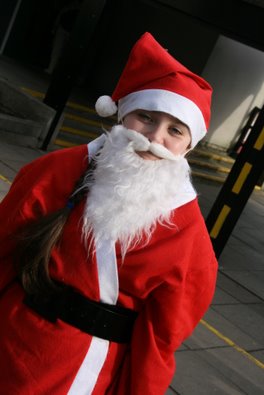 18/3/11: 09:50 And as the bell rings for the end of first lesson it's time to say a quick thank you to the prefects who have been helping to run the Year 7 Treasure Hunt. We have many competitions and events, but it's been a long time since we had one adjudicated by a banana and a washing machine!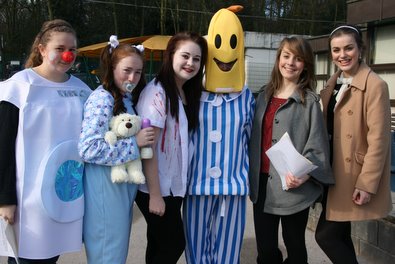 18/3/11: 09:48 Some of our Year 8 are left a little dry mouthed after participating in a fund raising cracker eating contest! After the last round our winner had managed seven dry crackers in a minute. I think she's hunting a drink down now!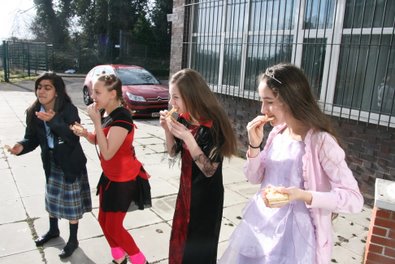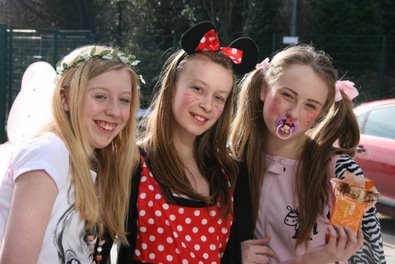 18/3/11: 09:26 I know that we enjoy the company of many of the SFX students in our collaborative Sixth Form but I didn't think we taught the lower school pupils. We might need to check the Geneva Convention rules about uniform for this one.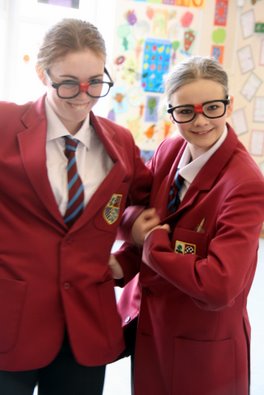 18/3/11: 09:25 Year 7 are out on their red nose treasure hunt, and are currently dashing around different posters gathering facts about where the money raised today will go.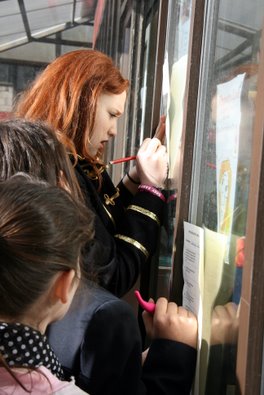 18/3/11: 09:20 I've been out taking some more photos, and whilst it seems like most people are happy this group of Na'Vi seemed a bit blue.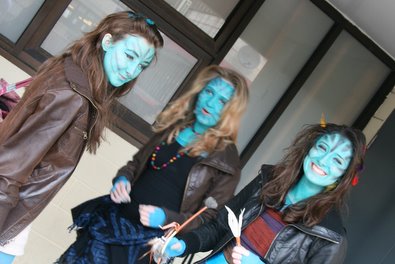 18/3/11: 08:52 STOP PRESS! We're hearing rumours that Mr Alderman may be making a costume appearance. Will it be the banana suit again? We'll have to hound him to change it if it is!
18/3/11: 08:45 The registration bell has gone and I've a world of characters streaming past my window. We've got some nice time travel happening, as the 118118 runners take back to the seventies, whilst one of our Year 10 students seems to have fast forwarded into her seventies. Is it coursework stress do you think?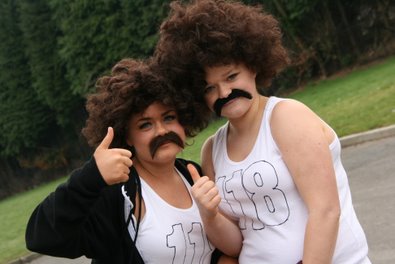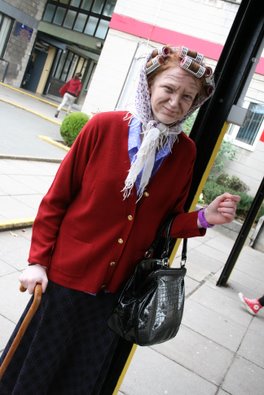 18/3/11: 08:18 The costumes are getting a bit more varied now. Sleepsuits are proving popular, but this poor St. Trinians girl has come to the wrong school today and I'm sure that I saw Santa Claus chasing a giant bunny rabbit into the science block. I'll try and bring you some more on that later!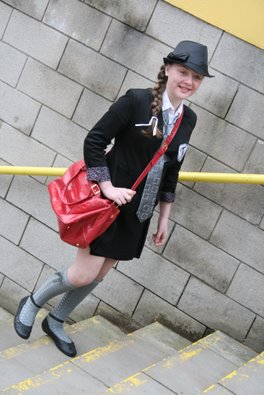 18/3/11: 07:45 AND WE'RE OFF! It's Red Nose Day 2011 and our students are already starting to arrive in a wide range of fancy dress. So far we've seen a dalmation and a geek tucking into their breakfast, alongside many pyjama wearing people. Could it be that everybody just didn't bother getting changed when they got out of bed? I hope not!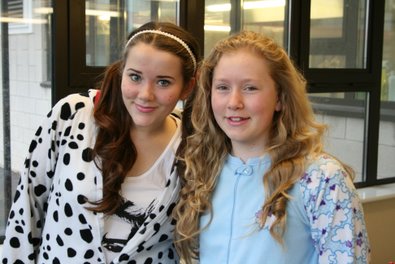 17/3/11: 17:09 It's not even Red Nose Day yet and we've already started! Massive kudos goes to Hannah Wood and Gabrielle Woods who have made and decorated their own cakes to sell within their geography class. Our first charitable cash for Red Nose Day is in already.