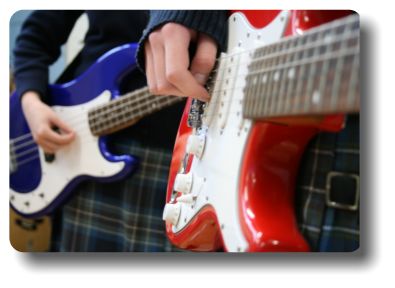 Exam Board: OCR
QAN Code: 100/1296/5
Music is an exciting, creative and challenging course which gives you a range of opportunities both in and outside of school.
Students from the current GCSE groups have performed in Teen Idol a prestigious singing competition held at both Parklands CLC and the Liverpool Philharmonic Hall. Students are also given the opportunity to perform in school productions, concerts, gigs, assemblies and masses.
If you take Music at GCSE you will have to either sing or play a musical instrument. A major part of the course is about performing and composing both individually and in a group situation. You will have to perform 2 pieces of your choice (Solo and Ensemble) and compose 2 pieces of music. Throughout the course you will be given the opportunity to develop your ICT skills. This will include the use of recording and sequencing equipment both through your composing and performing tasks. Our faculty have a partnership with Parklands CLC and frequently use their professional recording studios.
Choosing Music at GCSE will develop your interest and enjoyment of Music making you a more confident performer and composer while helping you appreciate a wide variety of styles and genres. Students may continue their studies onto the popular BTEC Music course at St. Julie's Sixth Form. Successful careers have followed in; Performing, Music Therapy and Publishing.